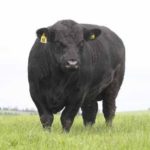 Our policy is to select herd sires that exhibit superior maternal strength, excel in structural soundness and have the ability to transmit the traits relating to longevity and excellent constitution for harsh environments. We also recognize the requirement to respond to market signals. Our programme utilizes AI and ET using carefully screened bulls from both USA and Australia to enhance carcass traits where we feel necessary. However these bulls have to stand rigorous scrutiny and not deviate from our stated breeding policies. We aim to maintain fertility, growth and high carcass yield as a priority. Multitrait selection has been the cornerstone of this programme and will continue to dominate the selection process.
Fossil Creek Angus uses AI and ET routinely to introduce outcross genetics that fulfil our programme requirements. We then select yearling bulls derived from these technologies and utilising our elite females with proven production records to mate over our heifers and young cows. This enables us to introduce new genetics but with the combined strength of the cow families that the herd is renowned for.
We also regularly purchase standing herdsires from other herds in New Zealand that we carefully assess to allign with our own breeding goals and philosophies.It is easy to get caught up in the fashion of the day but Fossil Creek Angus always maintains its strict multi trait genetic selection policy.